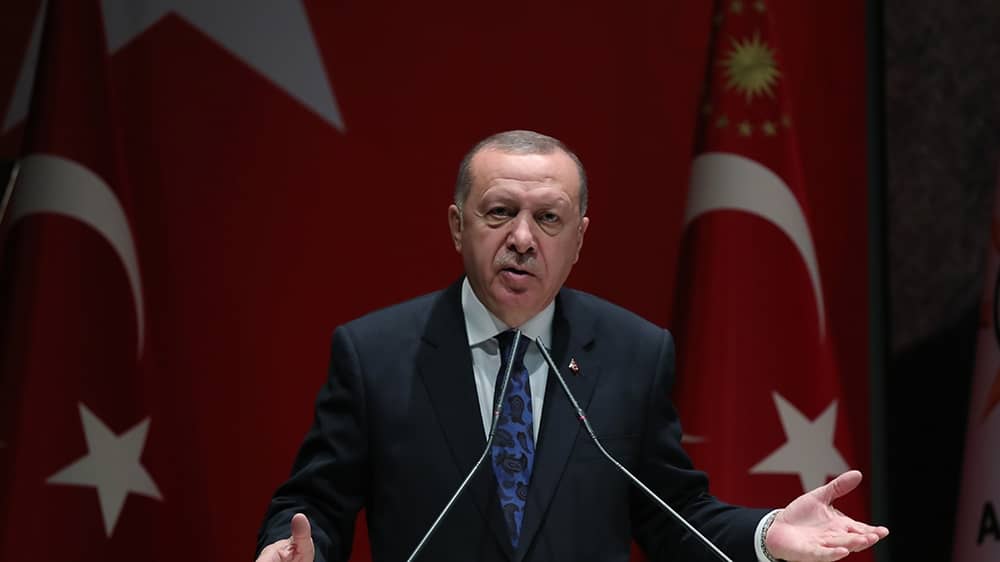 Turkey's Libyan adventure must be stopped to prevent war in the Mediterranean
By Dr. Cyril Widdershoven – Berry Commodities – Global Head of Strategy & Risk
The simmering crisis in the East Mediterranean, threatening a military confrontation between Turkey and the littoral states Cyprus, Greece, Egypt and Israel, has taken a perilous new turn with Turkey?s military and political alliance with Libya?s embattled government in Tripoli.
Turkish President Recep Tayyip Erdogan?s move to open a new alliance with Tripoli comes on top of his power projection in the resource-rich Eastern Mediterranean, Syria and Iraq. The move to open a maritime bridge from Turkey to Libya comes shortly after Ankara and the UN-recognized Libyan government signed an illegal Economic Exclusion Zone agreement. It is an attempt to split the Eastern Mediterranean region into two blocks, preventing not only the offshore gas developments around Cyprus, Israel, Egypt and Greece, but also the highly anticipated Eastern Mediterranean gas pipeline project to Europe.
With one stroke, Erdogan showed not only a willingness to reinforce his claims on already disputed international waters, but also moves into the Libyan conundrum. By setting up a military cooperation with the Government of National Accord, currently fighting a losing game with the Libyan National Army (LNA) led by Khalifa Haftar, Ankara has laid a claim to a strategic beachhead in North Africa where regional and global powers are already major players.
Turkey?s willingness to send Turkish troops to support the GNA against Haftar risks a direct military confrontation with Libya?s mighty neighbor Egypt, and Haftar?s supporters include several European powers and moderate Middle Eastern states opposed to the Muslim Brotherhood and other radical Islamist groups.
Since Ankara has thrown its weight behind Iran, Qatar, the Muslim Brotherhood and other radical networks, this latest international move poses a serious threat to the interests of moderate Middle Eastern states, Europe and the United States.
The potential for a total regional conflict is there. The stakes have been raised by Ankara again. After confronting international oil companies, such as Italian operator ENI, French partner Total or US-based ExxonMobil in their drilling operations offshore Cyprus, Ankara now has stepped up its power projections even outside the Eastern Mediterranean. Erdogan recently stated that Turkish military drones will be based on the territory of the ?Turkish Republic of Northern Cyprus (TRC)?, which is the Turkish occupied part of Cyprus, while indicating that a larger military base will be built very soon, together with a full-scale naval base.
Ankara?s statements are officially a reaction to lifting of military sales sanctions on Cyprus by the US Congress. A feverish diplomatic and military consultation process is currently underway between the Eastern Mediterranean party countries to block any military Turkish operations in the area. Egypt, Greece and Israel already have committed themselves to take action against Turkey in case of any incursion. American, French and Italian naval forces are also heading to the region to put pressure on Ankara.
Erdogan seems impervious to the threats. On Thursday last week, he threatened to send Turkish troops to fight Haftar and take control of the North African country. Some years ago, such a statement might have been dismissed as a bluff, but looking at Erdogan?s Ottoman dreams, as shown in Iraq and Syria, there is a good chance Erdogan is deadly serious.
The risk Erdogan is taking in Libya is exponentially larger than with his operations in Syria. The US, EU and NATO will be watching with a wary eye, while moderate Arab powers of the Gulf will definitely confront such a movement on the ground. For Ankara, a Libyan operation will be costly, dangerous and not easy to put in place. Arab powers, and even Israel, will be willing to block or confront Turkish movements on the ground, offshore or in the air. NATO will not support Ankara, as it is a unilateral move. A Turkish military presence in the southern core of the Mediterranean would be an unwelcome development for many NATO members including Greece, France and Italy.
The first weeks of January could be crucial. If Ankara goes through with its military plans, the Libyan civil war will take on stronger regional dimensions. It could escalate quickly and also trigger outbreaks of violence in the Eastern Mediterranean.
It is time to bring Erdogan back into line. Economic sanctions should be imposed immediately. Erdogan must be forced to acknowledge that his military adventure in Libya is a reckless and irresponsible move.
By Dr. Cyril Widdershoven for AlArabiya.net