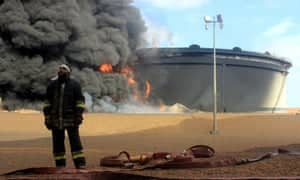 The end-game for Libya's oil crescent
By Dr. Cyril Widdershoven – Berry Commodities – Global Head of Strategy & Risk
Libyan officials have stated that the control of the El Sharara oilfield has been handed over by LNA forces to Libyan oil security forces, the state controlled oil guards.
Even though Libya?s national oil company NOC is based in Tripoli, which is in the hands of Western and UN-backed Libyan government or Government of National Accord (GNA), the majority of the country?s oil fields are under control of Libya?s General Haftar?s LNA forces. The latter have taken control last week of the field, after negotiating a deal with petroleum guards and local tribes, who had closed down operations at the 315,000 bpd field.
Libya?s NOC already had put in place a force majeure, causing operations to stop until a new security arrangement comes into place. Until now, it is not clear if NOC has agreed to a new security arrangement with Haftar?s LNA, even now the latter has offered to support renewed operations. Naji Al Maghrabi, the eastern-based commander of the state oil guards, has called upon NOC to lift the force majeure. NOC also reiterated that without security arrangements in place, no resumption can be expected soon. An inspection team has been sent to assess security situation on site. However, the LNA and its militias maintain a no-fly zone, which points a potentially high threat level.