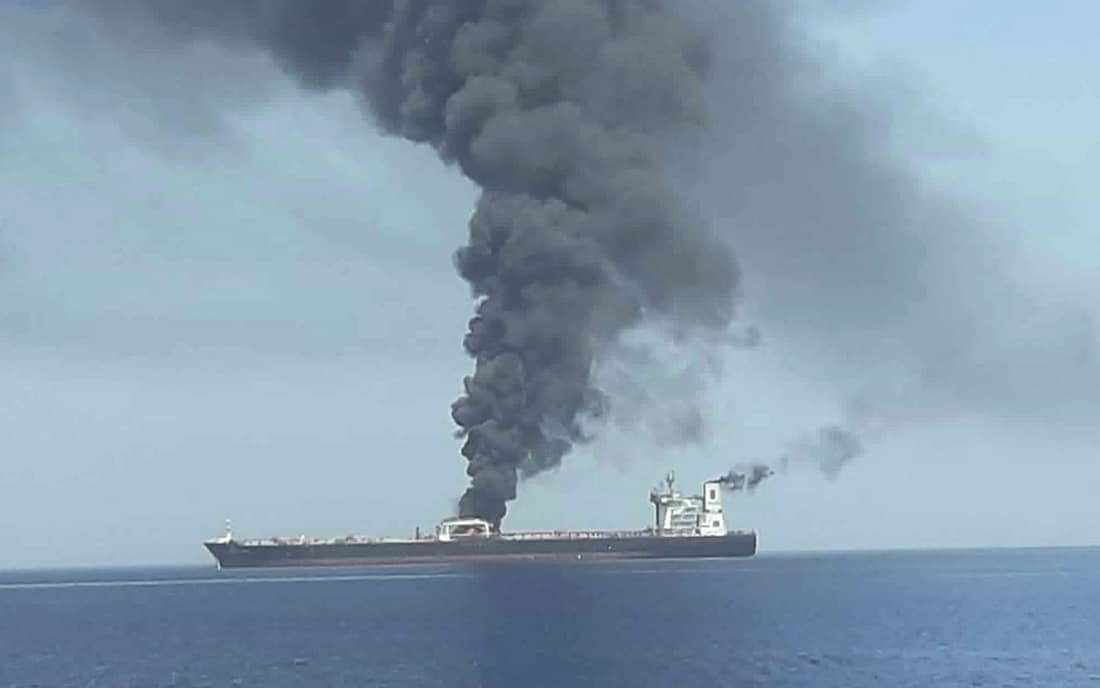 Iran crisis puts maritime sector under pressure
By Dr. Cyril Widdershoven – Berry Commodities – Global Head of Strategy & Risk
The Persian Gulf region is heading for a possible showdown, as US and Arab states are accusing Iran of starting a possible tanker war.
The attack on two oil product tankers in the Gulf of Oman last week is not only putting the Persian/Arab Gulf region on edge, but already has resulted in an insurance frenzy of unknown order.
Since the attacks on the two petroleum product tankers, which is most probably linked to Iran?s IRGC, the country?s unofficial armed forces, or to proxies, insurance rates of tankers, container vessels or oil-gas related OSVs, have gone up.
Insurance offices lights have not been off since the statements made by US Central Command (CENTCOM), showing photos of a limpet mine, as well as video evidence of the crew of an Iranian gunboat attempting to remove it, indicating clearly Iranian involvement.
At the same time, threats have been made by Iranian officials or proxy militias that more is to be expected if the US does not back down in its perceived military buildup.
For the anti-Iranian alliance, the current attacks and the proof presented can be seen as the smoking gun for a military confrontation. Still, the latter is not in the making yet.
The only measures currently taken by US, UK and possibly by several other Western European countries is to dispatch marine vessels and personnel to protect the shipping lanes in and around the Persian Gulf.
Worryingly, the Gulf of Oman attack came only shortly after Iranian forces were implicated in using limpet mines in the attack on four tankers last month, offshore the Emirati port of Fujairah, a major bunker port for European-Asian marine traffic.
There is an increasing chance that Iranian proxies are going to be involved to divert the attention to other regions.
If Iranian-backed proxies, such as the Yemen-based Houthis or Lebanon?s military faction Hezbollah, are willing to enter the fray, the situation could not only heat up more, it will involve several other major marine thoroughfares, such as the Gulf of Aden, Red Sea/Suez Canal and the East Mediterranean.
By spreading pro-Iranian low-conflict action, such as rocket or offshore warfare tactics, Tehran could be putting Washington, London, Riyadh-Abu Dhabi and Egypt under severe economic pressure.
At the same time, by spreading the threat, Tehran would also directly force the anti-Iranian operations to entail more areas, directly diminishing overall threats to Iran directly.
Some action has already been taken by proxies, such as the drone attacks on Aramco pipelines and rockets on Saudi airports, or the ongoing military skirmishes in Iraq.? Tehran is clearly trying to spread the Western-Arab military forces to other maritime regions.
Looking at the above, tanker and other vessel owners will need to start to address these issues. The Iran confrontation is not going to be the same as with Iraq.
Saddam Hussein was isolated, not able to regain the initiative by using proxies. Tehran, due to the set-up of the so-called Shi?ite bridge (Iran-Iraq-Syria-Lebanon) is able to project is willingness to confront the enemy by proxy.
For ship owners this means that not only the Persian Gulf is being targeted, but the total Mediterranean-Red Sea-Persian Gulf/Gulf of Oman theatre.
If insurers have this in mind, assessments will need to be made, resulting in very steep increases of risk premiums, insurance rates or maybe even cancellations
Maritime vessel owners will also need to make this assessment very quick, as it is better to be prepared, based on a rational assessment, than to react after an incident or major confrontation has happened.
Cost for all EU-MENA-Asia maritime trade and transport will increase, as the first reports are showing. The costs of this low-intensity warfare by proxy will be high.
For Iran it is risky to take this approach, as a clear involvement of an Iranian party will result in a direct surgical strike or more. For the Rest of the World the risk of damage, blockade of transport routes or cancellations, is staggering.
Margins, which already are under pressure, will plunge. The only possible profit-takers will be oil and gas tanker owners, as products will need to be stored if not able to reach markets. The latter also will be the case for oil storage owners.
There are however some bright lights available. The first one is the fact it is almost summer in the MENA region. Heat, even without Global Warming, has always had a detrimental effect on the military capabilities of adversaries.
Simply said, it will be too hot to fight. Secondly, no real military capability is available at present to start a real conventional war, only skirmishes are an option.
For the global economy, energy is not yet an issue, as the market is well-supplied. Still, Gulf-based oil production will be increased demand in the coming months.
It will be up to rational politicians on both sides to find a peaceful solution to the crisis. Looking at all sides, rationality and objective diplomacy however was thrown overboard long ago.
Currently, hot heads have taken the stern of the different armed forces, leading the ships to hit an iceberg of conflict, hidden under water by proxies.
Vessel owners will need to take a rational risk assessment approach, not leaving anything out of the constellation.
Looking at the energy sector, new attacks or an outright military confrontation will plunge not only the region into the abyss but will also trigger oil and gas price spikes.
The Gulf region is one of the main maritime oil and gas exporting regions in the world. Even that crude oil stocks are high, Arab and Iranian oil is needed. Asia?s energy thirst needs to be supplied; otherwise global economic growth will plunge.
Not only oil is in danger, Asian and European gas supplies too. Large parts of global LNG supply comes from the area, such as Qatar. Blocking this will prompt a nasty spike in gas prices too.
By Dr. Cyril Widdershoven for financialmirror.com