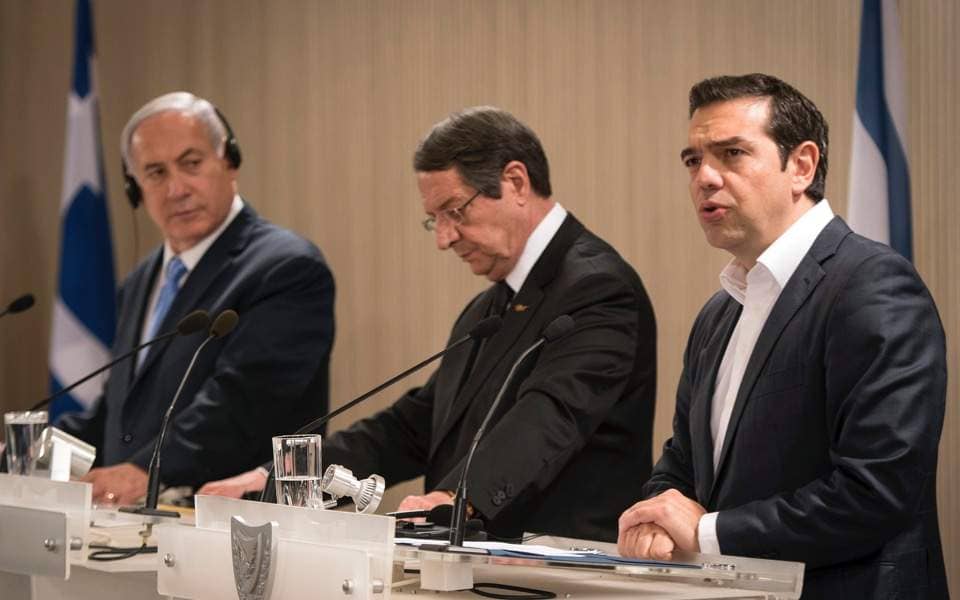 Cyprus needs to build East Med security alliance to support energy future
By Dr. Cyril Widdershoven – Berry Commodities – Global Head of Strategy & Risk
The growing regional energy cooperation between Israel, Cyprus and Greece has been given another boost this week.
During the 5th trilateral summit, Israel?s PM Benjamin Netanyahu, Cypriot President Nicos Anastasiades and Greek PM Alexis Tsipras stated in the Israeli city of Beersheva that they will sign an agreement early 2019 to start the construction of an offshore East Mediterranean gas pipeline to Europe.
As indicated before, the $7 bln pipeline will compete with Russian pipeline gas exports to European markets in a move to quell the growing Russian stranglehold.
The commercial and financial viability of the project will be studied further during the upcoming feasibility study, partly financed by the EU, which has pledged $100 million already.
Even that optimism is high, while several analysts are questioning the viability already, and indicated that the Egyptian LNG option holds much higher promises, another major aspect for the future of the East Med still is not addressed in full.
The security constellation of the East Med region not only is increasingly jeopardized by growing military power projections of Turkey but also Russia, Iran and even China are playing a destabilizing part.
Since the discovery of immense offshore gas reserves in Egypt and Israel, the still-simmering Turkish-Greek confrontation has again heated up. One of the major factors is claims by Greece and Turkey on offshore gas and oil reserves, which are partly based in disputed maritime areas.
Additionally, Turkey openly has threatened to block offshore gas projects by Cyprus, as long as Turkey and Turkish Cypriot parties are not involved.
These developments already don?t bode well for the coming months, looking at the growing involvement of international oil companies targeting new drilling operations in Cyprus and Greece, while Turkish entities also are setting up exploration and drilling campaigns in the same area.
Turkish navy vessels have already blocked or obstructed some of the operations.
Ankara has also repeatedly stated that it is considering to station additional Turkish military forces on the Turkish occupied part of Cyprus. The latter has been condemned by most but could still happen.
At the same time, Russia?s power projections in the region also have increased, not only in and around Syria, where Moscow supports the Assad regime but also cooperating with Turkey on military issues.
The Syrian conflict also has brought in the Iranian factor, destabilizing the precarious security situation in the region even more, now potentially leading to direct Israel-Iranian or Iranian proxy clashes in Syria, Lebanon and offshore East Med.
Iranian proxies, such as Hezbollah and Hamas, have openly threatened Israeli offshore assets, but could easily hit Cypriot assets too, as these are close by.
The unexpected move by US president Trump to remove US forces from the Syrian conundrum has left the door open in the region for Iran, Hezbollah and even a possible Turkey-Russia cooperation.
Full-scale offshore energy cooperation, hopefully still involving Egypt in all phases, will only be available as long as the regional security situation, on and offshore, will be either stable or be improved.
Before regional energy cooperation can be put in place, offshore and regional security should be addressed first. In a normal situation, NATO involvement could be the option.
However, two of the regional powers are members of the alliance, but not on speaking terms. Greece and Turkey don?t see eye-to-eye and will not support a regional security coalition of the willing. The other European party, Cyprus, is not a member of the alliance at present.
Before Nicosia will even be able to address a NATO membership, the Turkish issue needs to be solved first.
Israel, and on the borderline Egypt, is also not a member. Still, looking at the NATO framework, an East Med security alliance, as sometimes formulated by some, is necessary to be formed by the Greek-Cypriot-Israeli and Egyptian side.
A combined, official security pact built on mutual interests (energy) and regional threats (Turkey, Russia, Iran), should be addressed in reality.
The fact that these issues were sidelined by a high-profile mediagenic pipeline agreement, supported by the EU and Washington, is a pity.
Nicosia, Athens, Tel Aviv and Cairo, should in a quick move and show of commitment formulize a military-strategic arrangement that will lead to an East Med Security Alliance.
Without having the power and willingness to counter (supra-)regional threats, building an offshore pipeline in disputed or unstable waters is a risk not to be taken.
Depending on spoken security support from Washington or Brussels is also not a basis to build your common future.
Increase your own strength via an East Med Alliance, enough to block power projections of others, before dreaming about US or NATO involvement in the next years.
Too many failures can be shown in the region (including Cyprus 1970s) that outside help comes too late.
Energy security will need to build on first regional security and strength, before hitting into uncharted waters.
Cyprus as a pivotal centre to all should take up this role and push for this approach openly.
The Mediterranean is no longer a Western lake, but a playground for all. East Med countries should not become just pawns but take their future in their own hands.
By Dr. Cyril Widdershoven for financialmirror.com