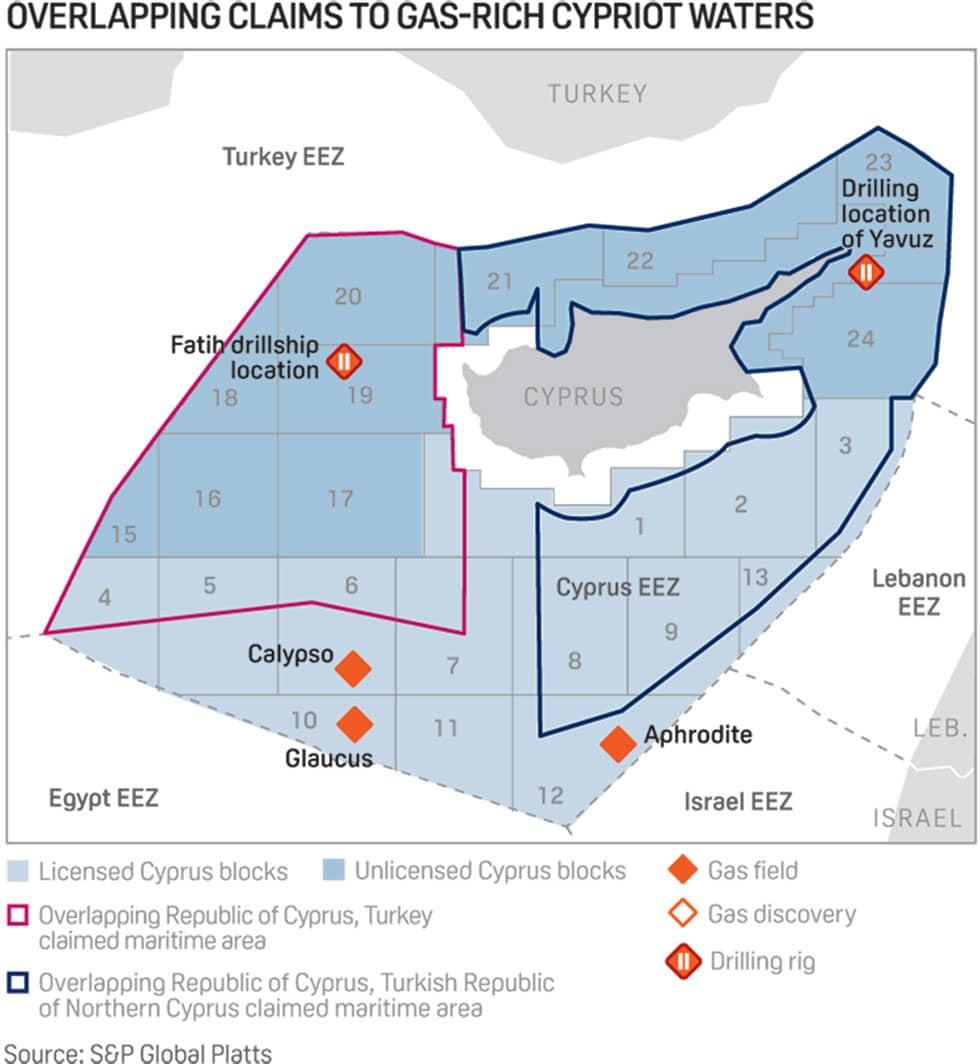 Cyprus confronted by Sultan's chess game needs regional security shield
By Dr. Cyril Widdershoven – Berry Commodities – Global Head of Strategy & Risk
Turkey?s move to start drilling in the disputed Cyprus EEZ, which is recognized by the majority of the Western world, has put the simmering political-military crisis in the East Med region at boiling point.
With a stroke of Ottoman political chess Erdogan has not only put Turkey back on the table but also has split the international community at the same time.
The Turkish president is fighting an uphill battle in his own country, being confronted by not only a deepening economic and financial crisis, diminishing the purchasing power of his voters, but also growing opposition to his own rule.
Turkish local elections did not produce the result Erdogan and his AKP party desired, the most dramatic defeat was the loss of the Istanbul mayor position to the CHP opposition.
Dealing in an Ottoman way, Erdogan forced the Turkish High Court to annul the Istanbul results, giving him some room to regain power over Turkey?s largest city.
The latter battle has a direct impact on Turkey?s regional power projections. As all strongmen know, when hit by an internal crisis look for an outside scapegoat.
Ankara has been very well equipped these past years to find them, as Syria, Iran or Russia have been perfect scapegoats to divide Turkey?s conventional partners, NATO and the EU.
By wheeling and dealing, Ankara has been able to keep a presence at international fora, while setting up a new regional and global alliance structure, in which it slowly is moving towards a Russian-Muslim centric constellation.
Scared by these moves, which could lead to a disintegration of NATO and put pressure on the EU, the West has been reasonably silent. Only the US has been vocal in its opposition to the current regional politics displayed by Erdogan.
The East Mediterranean, especially Cyprus, has been a major factor in recent developments.
While the EU has been dabbling with cosmetic political-economic frameworks, largely not functional in their implementation, such as the offshore deepwater gas pipeline project, the US has started to re-engage as a power factor, putting its perceived might behind Cyprus and the East Med parties, in a move to counter Turkish pressure.
Ankara seems to be unwilling to back off, even when Washington has openly threatened to intervene if necessary. Erdogan understands that the Trump Administration?s military is overstretched, as it is engaged in its War on Terror.
At the same time, a new military confrontation with Iran is looming on the horizon. Cyprus, and its partners Greece, Israel and Egypt, should realize that Washington at present will not take action against Turkey, as Ankara is needed in case of actions in the Arabian Gulf, the Red Sea and Syria.
Erdogan?s ?Fingerspitzengefuhl? is right in his assessments that opposition against his offshore gas and oil adventures in the East Med is meagre.
The only counter-measures that can be taken are full-scale military cooperation between the East Med countries, as has been spoken about the last couple of years.
A combination of Israel, Egypt and Greece/Cypriot forces are more than able to block a real Turkish incursion into disputed areas.
The claims made by Cypriot President Nicos Anastasiades on May 5 that Turkey?s actions inside the island?s exclusive economic zone (EEZ) are almost a second invasion are showing the emotional state of the current powder keg.
Nicosia already has asked for an international arrest warrant for the crew of the Turkish drilling vessel which aims to commence drilling for hydrocarbons.
For Cyprus the threat is imminent and clear, looking at the history between the island and Turkey the last 50 years.
Cyprus also stated that Turkey?s actions made it impossible to resume reunifications talks. In response, Erdogan has refuted the issue, while asking NATO to support his country?s rights in the eastern Mediterranean.
He stated during a meeting with NATO that the legitimate rights of Turkey and Turkish Cyprus (not recognized by anyone) over energy resources in the East Med are not open for argument.
Officially Cyprus is still trying to get the support of the EU Commission, NATO and others to counter any Turkish moves.? In reality, this hope is a very faint one.
While Cyprus already stated that active measures are taken in line with practices to block the Turkish moves, a more open and straightforward move is needed.
By addressing the issue with Cairo, Tel Aviv and Athens,? Nicosia needs to set an example very quickly. One defence move would be to organize, on very short notice, an East Med Navy exercise of the combined forces of the East Med offshore gas littoral states.
Without provoking any real conflict yet, showing force in and around Cyprus could be the solution to prevent a disaster.
Bringing in Egypt and Israel, already not on speaking terms with Ankara would also show an appetite for cooperation regionally, which has not been fully targeted.
Cyprus is partly to blame for the current situation, as it has been playing on several chess boards, without any real positive results.
Greece-Cyprus cooperation has not materialised. A possible Greece-Cypriot-Israeli approach is also too costly and without any real merit.
Spreading its influence even to Lebanon, trying to get involved in Beirut?s offshore plans, is a miscalculation.
The only real solution to quell an explosion in the East Med is the immediate establishment of energy and military cooperation, fully supported by all parties involved.
No US or European country will at present take on Turkey to protect Cyprus. With an Iranian confrontation building up, European elections upcoming, a Brexit in shatters and Libya on fire, maybe a new Cypriot Acamas needs to combine forces with David and Ramses to confront a new threat coming from the land of Troy.
By Dr. Cyril Widdershoven for financialmirror.com